Prayer Support Helpline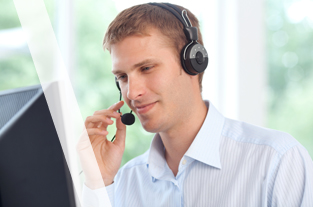 Ministry is all about serving people. When difficulty comes or you're facing a crisis, what a blessing it is to have someone you can talk with and receive the help and encouragement you need. Andrew Wommack's "Helpline Ministry" was initiated in 1991 to provide that along with other services as well. Since then, the Helpline has received hundreds of thousands of calls.
The Helpline prayer ministers have prayed with thousands of people to receive salvation and the baptism in the Holy Spirit. They have also received many testimonies of miraculous healings and deliverances in the lives of the people they've prayed for. Here are a few examples:
Ruth called in for prayer for clogged arteries. While in surgery, her arteries opened up on their own, right before the doctor's eyes, and the doctor started praising God.
A prayer minister prayed with Deborah who had a lump in her breast. It dissolved immediately.
The Helpline's "Encouragement Department" makes outbound calls to our partners on a regular basis. These are not solicitation calls but an effort to minister to our partners and friends. The first outbound call ever made was made by Andrew's associate minister, Don Krow. He picked a name at random from the mailing list and called a woman in Florida. God's timing is always amazing.
When the woman answered, Don said he was calling from Andrew Wommack Ministries just to bless her in some way and asked if he could pray with her about anything. The lady told Don that she was sitting at her kitchen table writing a letter to Andrew at that very moment. Her teenage daughter had been raped, and she was trying to get some questions answered and guidance on how to minister to her. She had just put her pen down to ask God for help when the phone rang. It was Don, who was able to minister directly to her need. This was the first amazing example of God's timing and grace in these outbound calls, but not the last; it happens all the time.
The friendly people manning the Helpline can serve you in many ways: they provide you with an opportunity to receive personal prayer and ministry; they make ordering teaching albums, tapes, CDs, books, and other materials fast and easy; and they can answer questions you may have about the ministry. Helpline personnel are well trained and minister with excellence. Many are personal friends, but all are recommended by Andrew as qualified, friendly, and efficient.
Ways to receive prayer ministry:
1) Call us at 647 348 2220 X Ext 1 to speak with a prayer minister, our lines are open M-F 24 hours MST (except US holidays).
2) Visit awmc.ca/contact and pick 'Prayer Request' under Reason.
3) Attend our regular Healing School events to have one of our prayer ministers pray and agree with you in faith.