AWMC Covid-19 Response Framework
Click to see AWMC covid-19 response framework
Updated on 2021-1-4
---
Click Here to see our reopening plan
Updated on 2020-11-17
---
From the desk of Andrew Wommack:
Jamie and I are personally not panicked about the Coronavirus (COVID-19) outbreak. We have God's promises that He will protect us, and that's good enough for us. But it's not only about us.
This is Andrew's address to his staff on March 16th, 2020: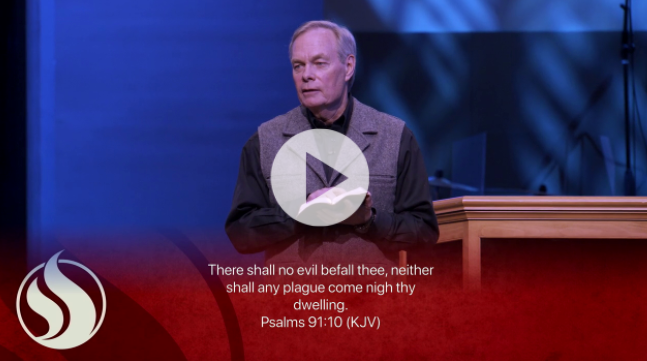 From Andrew Wommack Ministries Canada:

We are a part of a community and there are many people who don't share our view and are genuinely concerned about the health risks to themselves and others.

We have adjusted operations of Charis Bible College Toronto based on the most recent directives from the Government of Ontario which has ordered the closure of all non-essential workplaces in Ontario for a period of 14 days from 11:59 PM Tuesday March 24 to Tuesday April 7. This order applies to Andrew Wommack Ministries Canada (AWMC) and Charis Bible College Toronto (CBCT)

As a result, the AWMC and CBCT office at 300 Steeprock Drive in North York will be closed for that 2 week period. However both the AWMC & CBCT will continue to be in operation with staff working from home until April 7, 2020. Donations and product orders will be processed as promptly as possible. We ask that you be patient with us during the closure period as there may be delays in product shipment.


CBCT classes will continue remotely during the closure period with arrangements being made for the students to view videos from home, and potentially to meet online.

We will review any further decisions coming from the government relating to COVID-19 and in particular relating to when our ministry office can re-open.

The Chief Medical Officer of Ontario has requested that anyone who is exhibiting symptoms of fever, a new cough, or difficulty breathing to self-isolate at home, and we are requiring that all staff and students follow this request, even after our offices reopen.

Please note the following:
• Radiate: Women of Purpose Conference originally scheduled for April 4, 2020 has been postponed
• Open Charis Teaching scheduled for April 6, 2020 featuring Julianne Harris has been cancelled
• Healing School Toronto April 13, 23 speakers and format TBA
• Open Charis Teaching scheduled for April 14-15 – Please consult our website for updates

Please consult our website to receive any updates relating to closure and the status of AWMC and CBCT or other ministry programs.

The decisions that we have made are not based on fear but simply for the purpose for cooperating with the provincial government authority and acting prudently and responsibly. Please take this opportunity to continue to build yourselves up in the word and in the spirit, and please note what the Lord has said in Psalm 91 relating to His protection for those who love Him and believe His word.

If you or someone you know has become sick with the virus, our Helpline is open 24 hours a day on Monday through Friday and employees from Andrew Wommack Ministries are available to pray with you and see the Lord's healing power flow. We are not afraid of the pestilence that is walking in the darkness. No evil will befall us and no plague can come nigh our dwelling (Psalms 91:6, 10). We would love to mix our faith with yours and see this protection extended to you and your household.

Paul told Timothy in 2 Timothy 1:7, "God hath not given us the spirit of fear; but of power, and of love, and of a sound mind." That's our position and we believe the same for you too.

If you would like prayer, please call our Helpline at (647) 348-2220
In Him,
Scott Kennedy
Director,
Andrew Wommack Ministries Canada

Frequently asked questions about this outbreak:
Q: Will AWMC and CBCT still host their upcoming events despite the threat of Coronavirus?
AWMC and CBCT is still planning to host as many of the currently scheduled 2020 events as possible, making adaptations as needed; adaptations include live streaming, cancelling, or postponing events. As health care practitioners and the public health community work together to address the Coronavirus/COVID-19 situation, there are still unknowns.
Q:What is AWMC and CBCT doing to prepare for upcoming and future events in light of the Coronavirus outbreak?
A: AWMC and CBCT is complying with the requests and recommendations of health officials as well as staying informed with the most up-to-date information on the virus. We do know that personal hygiene is of critical importance. We are complying with and strongly encourage that people implement the recommendations of their public health agencies.
Prevention tips include:
• Washing your hands for twenty seconds and/or using alcohol-based hand sanitizer
• Covering your mouth and nose with flexed elbow or tissue when coughing and sneezing and discarding the tissue immediately into a closed bin
• Refraining from touching your eyes, nose and mouth with unwashed hands
• Cleaning and disinfecting frequently touched objects and surfaces using disinfectant cleaning sprays or wipes
• Avoiding close contact with anyone with cold or flu-like symptoms
• Staying home and not attending public events if you are feeling ill
Below are sources we are referencing as we exercise practical wisdom during this time:
• World Health Organization
• Health Canada
• Ontario Ministry of Health
• City of Toronto Response to COVID 19
Q: Will attendees be screened at AWMC and CBCT for fever or other health symptoms?
A: There are no plans to screen individual attendees at our upcoming events. Every attendee is encouraged to be diligent and proactive as to their own physical wellness as well as follow healthy habits to prevent passing the cold/flu to others.
Q: Will there be international participants from infected countries at our upcoming events?
A: AWMC and CBCT regularly hosts events that may draw some international attendees, including those from countries that have been adversely impacted by the outbreak. With the advent of the Coronavirus outbreak, AWMC and CBCT is following and adhering to the Government of Ontario directives. For information on international travel to Canada, see this link.
As such, persons coming from countries that are deemed to be high risk areas will either not be able to travel into Canada, or if/when they arrive, will be subject to additional medical screening measures, including potential quarantine for up to fourteen days before they would be allowed entry into Canada. International attendees coming to future events will have to adhere to those protocols, which is one of the contributing factors to the determinations by the Disease Control and Prevention Guidelines
Q: If attendees show symptoms, what will you do?
A: We ask all our attendees to adhere to good health practices and to seek medical attention as needed. AWMC and CBCT and Ontario Ministry of Health encourages the implementation of good personal hygiene practices. AWMC and CBCT requires any event registrant or participant who contracts a fever or other flu-like symptoms to stay at their home or hotel to help maintain the health of all event participants.
Q: Is there a go / no-go date for when Charis Bible College will decide to cancel specific upcoming events?
A: AWMC and CBCT is monitoring the situation daily and will make its decisions based upon the best available information and direction provided by government and public health authorities.
Q: Will you be asking people to refrain from handshaking or other forms of contact?
A: AWMC and CBCT will follow the direction of Government of Ontario and Department of Health and encourage each attendee to maintain a social distance of 2 meters.
Q: Will you have masks for event participants?
A: Masks will not be distributed to AWMC and CBCT event attendees. Persons wanting such masks should bring their own.
Q: If an event is cancelled, will I get a refund?
A: Yes. In cases of event cancellation or transition into being a livestream-only event, refunds will be issued automatically. For any questions, please call our Helpline at 647-348-2220. Reservation and travel expenses must be addressed with the provider.